We believe that an inclusive workplace fosters creativity, enhances the quality of our work, and provides more opportunities for all our employees and partners.
Health Care For All does not discriminate in hiring based on age, color, ethnicity, race, national origin, primary language, religion, socio-economic status, family status, mental and physical disabilities, veteran status, gender identity characteristics and/or expression, sex, medical condition, sexual orientation or any classification that is protected by federal, state, or local law.
It is important for our staff to reflect the diverse communities with which we work. People of color, LGBTQ+ identified people, individuals with disabilities, veterans, and people who speak a language in addition to English are encouraged to apply.
Openings are available, and we are always looking for available talent to help with our mission. Click to learn more about the position.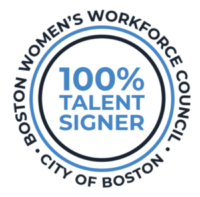 Health Care For All has been a long-standing partner for us at the BCBSMA Foundation.  They are a vital thought partner on critical health care access policy issues and inform our work by bringing to the forefront the important voice of the consumer.
Audrey Shelto
President, Blue Cross Blue Shield of Massachusetts Foundation